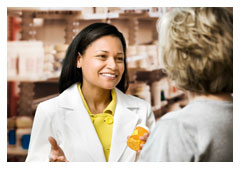 In-Person & Telephone Counseling and Support + Medication
Combining counseling (in-person or by telephone) with medication is more effective for quitting smoking cessation than either counseling or medication by itself. Having more counseling sessions also increases the chances of successfully quitting, when combined with medication.
You can get more information about the combination of in-person counseling and support with medication from your doctor, local clinic, hospital, or health department. Or call 1-800-QUIT-NOW for free to learn more about the combination of telephone counseling with medication.