References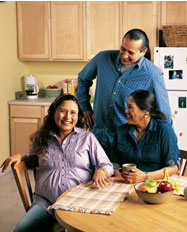 These are seminal articles written by Smoke-Free Families staff and colleagues on topics related to tobacco use and reproductive health.
Adams EK, Miller VP, Ernst C, Nishimura BK, Melvin CL and Merritt, R. "Neonatal health care costs related to smoking during pregnancy." Health Economics, 11:193-206, 2002.
Adams EK, Ayadi, FM, Melvin CL and Rivera C. "Smoking among Medicaid insured mothers: What are the neonatal costs?" Health Care Financing Review, 26 (2), 105-118, 2004.
Petersen R, Clark KA, Hartmann KE and Melvin CL. "Getting focused: missed opportunities for smoking interventions for pregnant women receiving Medicaid." Preventive Medicine, 40, 209-15, 2005.
Petersen R, Garrett JM, Melvin CL, Hartmann, KE. "Medicaid Reimbursement for Prenatal Smoking Intervention Influences Quitting and Cessation." Tobacco Control, 15: 30-34, 2006
Ayadi MF, Adams EK, Melvin CL, Rivera CC, Gaffney CA, Pike J, Rabius V, Ferguson JN. Costs of a Smoking Cessation Counseling Intervention for Pregnant Women: Comparison of Three Settings. Public Health Reports, March-April 2006; Vol. 121; 120-126.
Rosenthal AC, Melvin CL, Barker DC. Treatment of tobacco use in preconception care. Matern Child Health J. 2006 Sep;10(5Suppl):147-8.
Links
These are websites for other organizations that have current information on tobacco use during and after pregnancy: